Surprisingly, Conor McGregor Praises Donald Trump: The Most Phenomenal President!
etarung UFC from the Republic of Ireland,
Conor McGregor
,
praised the President of the United States
,
Donald Trump
, through his Twitter social media.
BolaSport.com reported earlier, Conor McGregor had just competed against Donald Cerrone at UFC 246 at the T-Mobile Arena, Las Vegas, (1/19/2020).
Conor McGregor was able to subvert Donald Cerrone in just 40 seconds in the first round via TKO.
After shocking fans with their spectacular comeback in the octagon, now the fighter nicknamed The Notorious has again caused a stir.
This time McGregor made a surprise when praising the controversial president of the United States, Donald Trump.
Trump, who became the target of impeachment in the US is now celebrating his three-year term.
In addition, he also celebrated Martin Luther King Jr. Day on social media.
As is known, Martin Luther King Jr. was formerly known as an activist fighting for the elimination of racial discrimination in the United States.
While celebrating his three-year tenure as supreme leader of the United States, Trump cited several achievements of his administration.
"Exactly three years ago, today, January 20, 2017, I was appointed. Today also commemorates MLK Day Jr. (Martin Luther King Jr.)," Trump wrote via his personal Twitter, quoted from SportBible.
"African-American unemployment is currently the lowest in our country's history," Trump continued.
Knowing that, McGregor immediately replied to Trump's tweet via his Twitter.
He even praised the 73-year-old man as a phenomenal figure and greatest of all time (GOAT).
"The phenomenal president. It is quite possibly America's best president of all time. To be sure, one of the best, he was above many giant figures before," McGregor wrote in praise.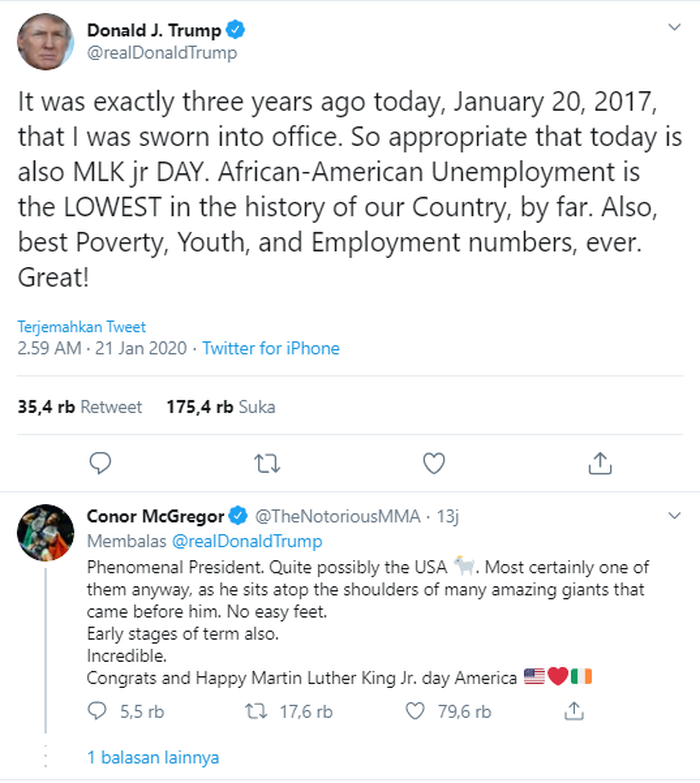 twitter.com/realDonaldTrump
The results of the conversation captured by the President of the United States, Donald Trump and UFC fighter Conor McGregor via Twitter.
Then, Trump replied to McGregor's tweet. "Congratulations on your big win at UFC," Trump wrote.
McGregor had also praised Trump in 2016 when the US election took place.

"I'm not from America, but Donald Trump might not be that bad," McGregor told CNN.

"I don't really feel any change. Basically it's like a fight."

"Someone wins, someone loses. Then you wake up and move on. I hope he will be fine. Let's see what he will do," he continued.